PHOTO RESTORATION, PRESERVATION & ARCHIVING
MENU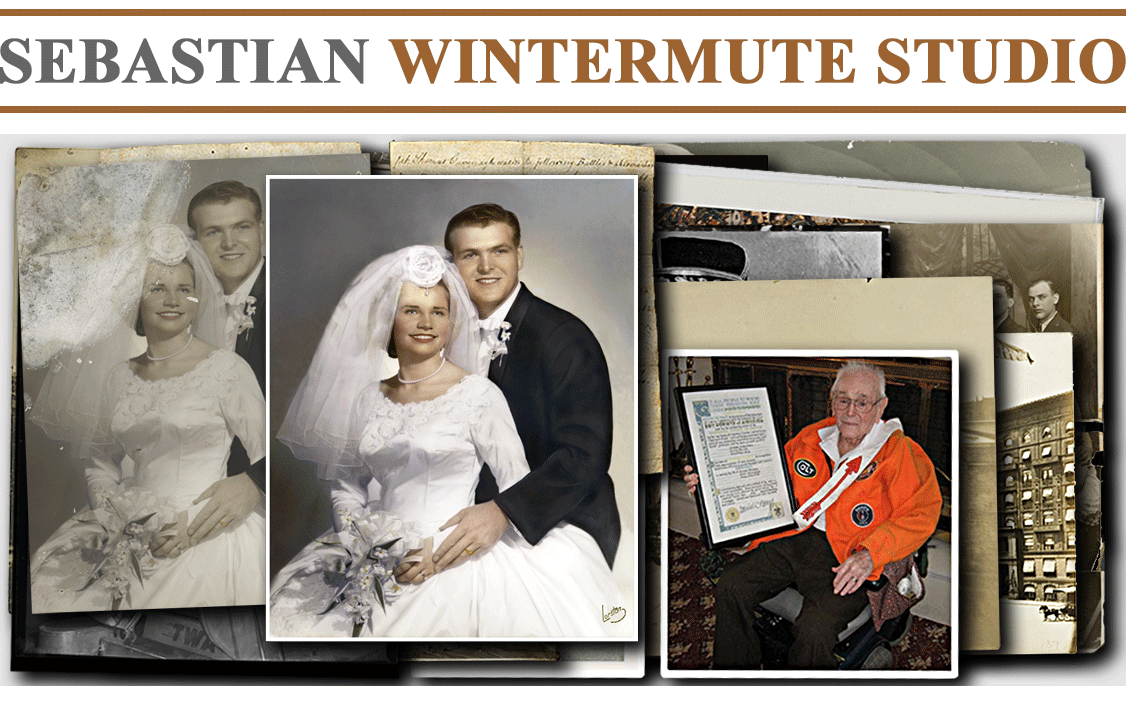 PHOTO RESTORATION
Restoration of old photographs, particularly those of the loved ones who are no longer with us, can be extremely personal and moving experience for many people. Sebastian appreciates, and carefully listens to and follows suggestions and wishes expressed by his clients, and strives to fulfill all of their expectations and instructions.
Every restoration project begins with a consultation with a client to assess the damage to a photograph, to discuss the requirements, and to advise a client on techniques, methods, and materials required to restore a photograph and to bring an image back to it's original appearance.
Factors taken into consideration include photographs physical condition and shape (rolled up photos will have to be flattened, stains cleaned, and creases and tears repaired and reinforced), and requirements for a final print of a restored photograph. Based on all those factors and on an expected time frame an estimate is presented to a client and restoration process begins.
PHOTO PRESERVATION & CONSERVATION
Many of the photographs brought to Sebastian Wintermute Studio for restoration sustained extensive damages caused by improper display, mishandling, or accidents, such as basement flooding or house fire. For such photographs an initial preservation and conservation treatment is required to protect them from future damage and deterioration.
Panoramic photographs that were rolled up and stored in that condition for many years, or photographs that sustained water damage from high humidity or an unfortunate basement flood may require humidification and flattening. To prevent cracking of photo emulsion and development of additional tears such photographs have to be places in to a humidification chamber that will slowly re-introduced moisture into the layers of photographs and make them pliable enough for flattening and drying.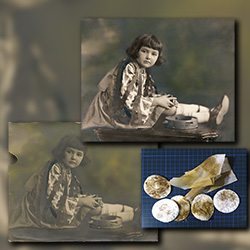 Old photographs for years kept on display became covered with a thick layer of dust, soot, and cigarette smoke residue, making them loses their original colors and vibrancy. The surfaces of such photographs need to be carefully cleaned with special solutions making sure that the photo emulation layer remains intact and undamaged.
Other photographs may have fallen victims to children's mischievous hands and were torn to pieces or were painted over with crayons and magic marker. Torn photographs and photographs with missing areas, in addition to cleaning will require careful mending, piecing together, and filling in of the missing areas, before they can be scanned and digitally retouched to restore an image to its original appearance.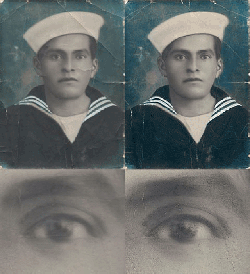 PHOTO SCANNING & DIGITAL ARCHIVING
Producing a high quality scan is an extremely important step in photo restoration. The quality of the scan determines the quality of the result. While discount photo restoration services use low quality scanners, or require the clients to scan photographs themselves in hope that later whatever imperfections or problems may cause could be fixes in photo imaging editors, Sebastian Wintermute utilizes professional equipment and specialized software to ensure that the scans made by him capture even the smallest details or minute color variations needed for high quality photo restoration and art reproduction.
Prior to scanning the original is cleaned of surface dust and residue. Scans are done at resolution of at least 600dpi if the image is to be reproduced at its original size. Higher resolution is used if an image is to be enlarged or if capture of small details is required, as it is for fine art reproduction, publication, or digital archiving.
Sebastian Wintermute feels there are no substitutes for artists keen eye and attention to smallest details in restoration. Avoiding the use of "dust and scratch filters" that often remove small but exceptionally important details and contribute to an overall loss of image quality, Sebastian manually retouches every image, preventing loss of quality and clarity caused by use of shortcuts and reliance on automated image processing and editing.
Scan images intended for digital archives are subjected to extra scrutiny to assure that during restoration and retouching no details were lost, damages, or misinterpreted. Following examination and acceptance by a client, archival images are saved at a maximum allowed resolution in lossless digital formats. Special digital storage media, such as Gold Archival Grade DVDs designed to last for over 100 years when properly stored, are used to record and deliver the images to clients.