PHOTO RESTORATION, PRESERVATION & ARCHIVING
MENU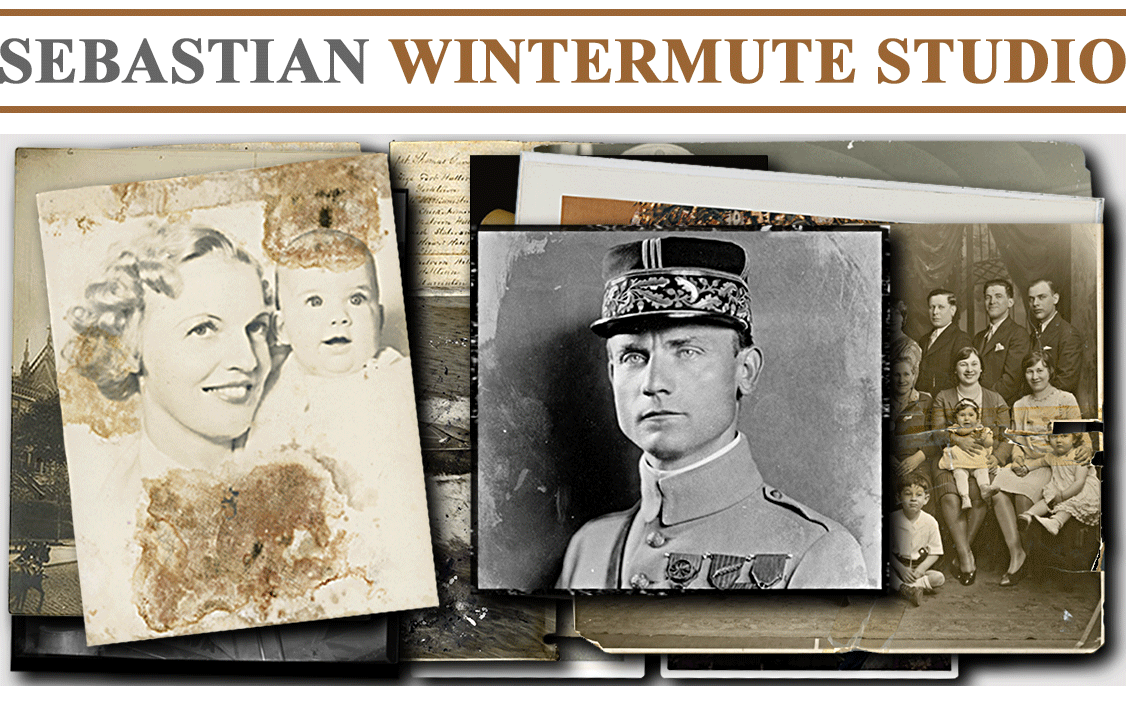 PHOTO RESTORATION, PRESERVATION & ARCHIVING
Sebastian Wintermute provides a full range of
Photo Restoration
,
Photo Conservation
and
Digital Archiving
services dedicated to preserving and bringing back old photographs that have faded with age or became stained, torn, burned or water damaged.
Every project begins with a consultation with a client to assess the damage to a photograph, to discuss the requirements, and to advise a client on techniques, methods, and materials that will be required to restore a photograph and to bring an image back to it's original appearance.
ABOUT
For well over a decade Sebastian Wintermute has been providing those interested in preservation of visual heritage, family history, and genealogy an opportunity to restore photographs and documents that otherwise would literally fade away. Because of his professionalism and experience Sebastian has been entrusted to restore and to preserve photographs and documents by many private clients and some of the most prestigious and well-known companies and organizations world-wide.
RESTORATION PORTFOLIO - BEFORE & AFTER
Artists portfolio is a window into the skills and specialties and can tell which types of medium a restorer usually works with, their level of experience and competence, and what kind and how many projects they completed. Sebastian Wintermute strives to maintain the highest standards in workmanship and integrity. As can be seen from portfolio even the most damaged photographs can be restored with stunning results.
To see more examples Sebastian's work and to learn the stories behind many of the photographs, please
CUSTOMER REVIEWS & TESTIMONIALS
Sebastian Wintermute always aims at providing his customers with personable service, expert knowledge, exceptional results, and on-time delivery. Here are a few of clients' testimonials he received:
Sebastian did an excellent job preserving and restoring my family photos and documents.
He was meticulous, attentive, and most important, trustworthy -- after all, I left irreplaceable family items in his care and he treated them as his own.
I strongly and without reservation recommend that you see Sebastian if you need preservation / restoration services; simply put, he's the best!
RESTORATION FAQ
Everything you wanted to know about photo restoration but were afraid to ask. Here you will find answers of our most common questions such as:
and many others...
NEW YORK STUDIO LOCATION & CONTACT INFORMATION
Sebastian Wintermute continues to operate
New York Restoration Studio with some temporary changes:
All meetings and consultation are held at client's business locations or at outside venues
Turnaround time for most projects is extended by additional 5 to10 busness days
For more information or to arrange for a phone or an on-line consultation please call
212-598-5847 or email restoration@sebastianwintermute.com