PHOTO RESTORATION, PRESERVATION & ARCHIVING
MENU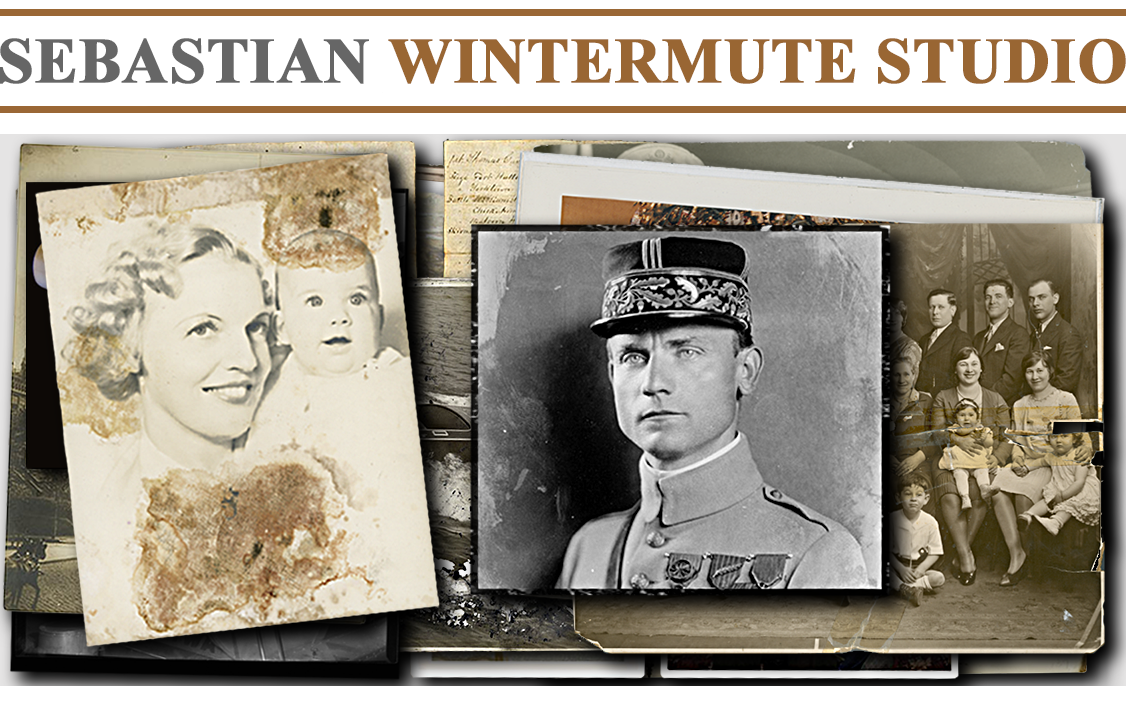 HOW LONG DOES IT TAKE TO RESTORE A PHOTOGRAPH?
In most cases it takes
between 5 to10 business days
to have a photograph restored. However, if a photograph is extremely damaged or if Sebastian is engaged in a large project, it may take a bit longer.
There are seasonal considerations where volume increases turnaround time.
Clients are advised to bring in  photographs to be restored well in advance of holidays such as:
Veterans Day, Mothers Day, Fathers Day, Thanksgiving or Christmas.
There are no "rush" jobs, but quality work can be expedited at a higher rate to meet clients deadline.
HOW MUCH DOES IT COST TO RESTORE A PHOTOGRAPH?
Restoration is an art, not a science with reproducible results, each restoration project is unique. Precise estimate can be provided only upon thorough examination of the original photograph.
The price for restoring most photographs ranges from $125.00 to $250.00, with museum quality restoration and conservation services, or restoration of exceptionally damaged, large size or otherwise unique photographs, or those photographs that require specialized and personalized attention, commanding justifiably higher prices.
To get an estimate, please make an appointment to have your photographs examined and to receive comprehensive answers to any questions that you may have concerning all aspects of photo restoration.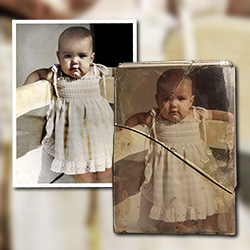 CAN YOU RESTORE A PHOTOGRAPH STUCK TO GLASS?
Depending on the extent of the damage a photograph that became stuck to glass can either be carefully separated from it with a minimal loss or it can be restored by making a high resolution scan, digitally retouching the damaged areas, and making a high quality print to match the original photograph.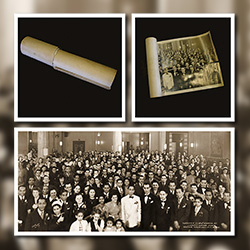 CAN YOU FLATTEN AN OLD ROLLED UP PHOTOGRAPH?
Restoration of a rolled up photograph or a document is one of the most challenging and difficult of all restoration tasks. It is highly advisable that any photograph of value that has been rolled up and stored in such condition for a prolonged period of time is handled by a skilled restoration and conservation professional, otherwise a photograph will suffer additional distress or may be damaged beyond repair.
Sebastian Wintermute has extensive experience of restoring such photographs, from 1880 panoramic views on New York City to pictures taken at WWII military training camps. If you have a photograph that has been rolled up and that you would like to be restored, please CALL or email E-MAIL for an appointment to have it examined.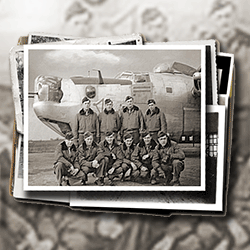 DO YOU OFFER DISCOUNTS?
In recognition of their suffering and sacrifice
FREE SERVICES
are offered to the Holocaust Survivors and Combat Veterans of WWII Allied Forces.

DISCOUNTS are offered to veterans and current members of IDF, NYPD, and FDNY.
DO YOU OFFER FRAMING SERVICES?
Sebastian Wintermute
DOES NOT
offer framing services always happy to recommend a few local framing studios that offer outstanding quality and great customer service.
Sutton Place Frame Shop
998 1st Ave.,
New York, NY 10022
(212) 355 - 3840
Eli Wilner & Company
1525 York Ave.,
New York, NY 10028
(212) 744 - 6521
WILL YOU PROVIDE DIGITAL COPIES OF THE RESTORED PHOTOGRAPHS?
Upon the completion of a project clients are provided with high resolution original scans and the digital files of the restored photographs.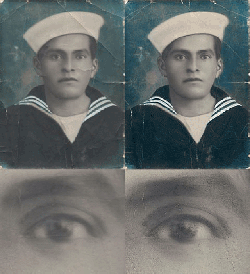 CAN I E-MAIL A SCAN OF A PHOTOGRAPH TO RESTORE?
Producing a high quality scan is the first and one of the most important steps in photo restoration. Unlike many discount photo restoration services that use low quality scanners in hope that later whatever imperfections of the scan, low resolution or color changes can be fixes in Photoshop, Sebastian Wintermute utilizes high quality equipment, to ensure capture of even the smallest details or the most minute color variations of the original that are needed for high quality photo restoration and art replication.
However, if you are unable to bring the original photograph to the studio or send it to be restored, you can e-mail or send a CD with high scan file of a photograph to be restored. Have a photograph scanned at a minimum resolution of 600dpi at full color setting , even if photograph is black and white, do not apply any color correction, scratch and dust removal, or any other filter that may change the appearance of the photograph.
CAN YOU RESTORE AN ORIGINAL PHOTOGRAPH INSTEAD OF MAKING A DIGITAL COPY?
Traditional photo retouching service is offered on case-by-case basis. If an original photograph is damaged only slightly, it may still be possible to reduce the appearance of scratch marks and other imperfections by careful application of retouching spot tones.
The great misconception about photo restoration is that in the old times the true photo restorers whose art is forever lost were able to repair and restore an original photograph no matter how damaged it was. Nothing could be further from the truth. Though some damages such as scratches, minor blemishes or tears in the original photograph could and still can be retouched and repaired by a skilled restorer, anything more then that required making of a copy of the original photograph.
The usual procedure was to photograph the original image onto a special copy film such as Kodak Professional Copy Film 4125 that was designed for retouching. After a copy was made the photo restorer would carefully retouch the negative removing all visible signs of damages and imperfections by applying special retouching tools and pencils. After the negative was retouched it would be printed on photo paper, this producing a restored duplicate of the original damaged photograph.
Nowadays, instead of making a negative from the original photograph a digital file is created by scanning the photograph with a high quality photo scanner. After the digital file is retouched the restored image is printed on specially designed paper of higher quality and longevity then most of old fashion photo papers.
IS IT POSSIBLE TO ENLARGE A PASSPORT SIZE PHOTOGRAPH?
With high resolution scanning, careful retouching and restoration a small photograph can be enlarger to 5x7 or even 8x10 size. Making a photograph much larger is possible but usually requires a considerable amount of skill and use of high end professional digital photo scanning equipment.
CAN YOU REPLACE A BACKGROUND AND REMOVE A PERSON FROM A PHOTOGRAPH?
With careful retouching it is possible to replace a background or to remove a person from a photograph without making the image look artificially changed. It is also possible to remove the background on a photograph or change the lighting, making the faces covered by shadows to appear lighter. Sebastian Wintermute offers such services when a photograph is needed for private use only.
No photo retouching is ever done to alter the appearance of photographs of any cultural or historical significance or if such photo retouching may violate professional code of conduct, such as changing the appearance of images for publication in newspapers, magazines or on-line publications.